Ho, Ho, Hold On
Twelve of Santa's helpers spend Christmas in July at Cedar Point Amusement Park/Resort.
---
Thursday, July 24, 2008 7:44 AM
---
Cedar Point Press Release
SANDUSKY, Ohio – There will be anything but snow at this Christmas event! To celebrate Christmas in July, Cedar Point amusement park/resort gave 12 of Santa's helpers a ride they will never forget aboard the park's popular Maverick roller coaster.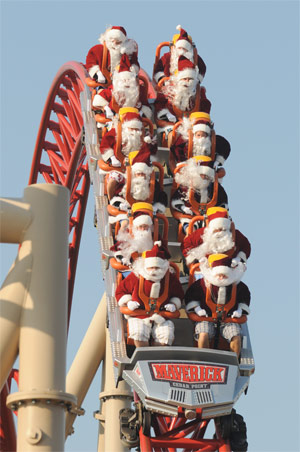 12 of Santa's Helpers ride the Maverick roller coaster. Photo courtesy Cedar Point.
And, as a special "stocking stuffer," the park is offering its guests the chance to purchase a special, limited-time $25 admission ticket to Cedar Point! But hurry! This incredible price is only available on the first 5,000 tickets sold and the tickets must be used by Labor Day, Monday, Sept. 1. This special offer is only available online at cedarpoint.com/deals. (A minimum of four tickets must be purchased to get the special $25 pricing.)
Located along the shore of Lake Erie, Cedar Point is a popular vacation destination that is home to the largest collection of roller coasters on the planet! Highlighting the park's arsenal of 17 roller coasters is Maverick.
Guests begin their thrilling journey aboard Maverick by cruising to the top of the coaster's 105-foot-tall lift hill by linear synchronous motors, which propel the coaster up the hill faster than a traditional chain lift. Once at the top, guests have a split-second to enjoy the view before they fly down the first hill at an amazing 95-degree angle. (That's five-degrees steeper than straight-down!)
From there, guests experience a series of quick twists and turns before flying over an "airtime-filled" hill. (That's what coaster-lovers call the sensation of flying up and out of your seat!) Maverick takes its passengers through a signature twisted horseshoe roll where they are flipped upside down not once, but twice before they are taken into a 700-foot-long tunnel, where they are blasted out at speeds exceeding 70 mph! From there, guests experience more thrills, chills and hills before concluding their ride and returning to the station.
Maverick is one of Cedar Point's most highly-rated rides ever! In its first season of operation, Maverick was named the "Best New Ride of 2007" by Amusement Today's panel of experts in the newspaper's annual Golden Ticket Awards.
To find out more about the money-saving deals, Cedar Point and Maverick, guests can log on to the all-new
www.cedarpoint.com
.